Art Rabbit
case study
Steadily growing base of subscribers, reviewers and members ever since the site has been launched
The site now boasts more the 30,000 users per month - the most dynamic site of its kind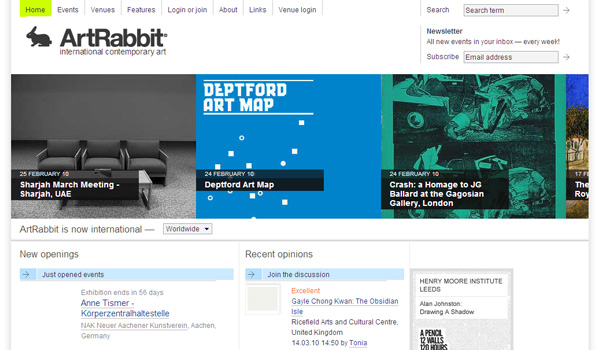 According to provided PSDs (Bureau for Visual Affairs) I was asked to deliver set of templates which would facilitate intuitive yet enjoyable user experience whilst accommodating modern accessibility requirements and maximizing browser support.
Technically speaking:
6kb of code per page on avarage
12kb of CSS styling the whole website
full WAI "AAA", W3C, WCAG and "Section 508" compliance
All build and delivered within 48 hours after getting briefed.
Result:
Inclusive, easy to view and rate listing
Full integration of Google mapping for venues
Comprehensive tools to view what is on in any area
Now Art Rabbit is the popular online tool for everyone interested in the UK's vibrant contemporary art scene. It connects hundreds of venues with thousands of daily visitors and their opinions.