Waitrose
case study
Interactive Media Council awards 2008; Winner, Best in class - Food/Beverage category
BIMA Awards 2008; Shortlisted, Website - Content & Design Award
Revolution awards 2009; Shortlisted, Best website category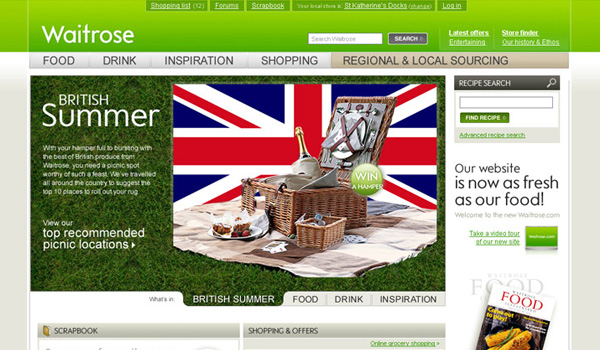 This is one of the largest projects I have worked on to date, totalling over 8000 pages of content, with many complicated legacy issues of migrating the technologies, infrastructure, and all of the old content, into a new design where new content is put at the forefront, with easy access to the older material.
The budget constraints meant a traditional CMS for a site of this magnitude would cost too much, so the solution involved setting up a dedicated team to maintain the site going forward, and create a system of design templates that could be used to house all conceivable content types, providing the maintenance team with the materials to generate a bespoke page design for all new content added.
On this project my role included:
Leading a team of front end developers to ensure meeting very tight deadlines.
Helping to devise the best technical solution for each required experience.
Planing hiring and managing contractors.
Managing and documenting the handover process and ensuring smooth run of the site in future.
Running usability workshops, prototyping and user testings.
The result was a large-scale, flexible solution that can be easily expanded and support constantly evolving major marketing campaigns, utilising a unified user experience that challenged competitors in it's market and made new technological advances.